our customers talk about us
Après avoir consulté le très beau site de la boutique, j'y suis passé le samedi 12 Août pour acheter les flacons que je recherchais. L'accueil est très chaleureux et professionnel, de plus, vous croyez rêvé en découvrant les différentes grandes bouteilles proposées. Je suis très heureux de mes achats, et je reviendrai dans quelques mois, pour compléter ma collection. Merci, de nous proposer tant de merveilles…
Norbert HENROT
14/08/2023
Je ne peux que recommander cette cave tant pour la qualité des flacons qui y sont vendus que pour le professionnalisme de l'équipe. Le petit plus : les prix domaines incroyable sur les chateauneuf-du-pape
Alexander Derksen
03/08/2023
This place is amazing. Great staff. Awesome selection of wine. Fast and economical shipping to the US. Purchased a case of wine June 2 and it arrived in Florida on June 16! The other places I ordered wine from won't be here until August. Will be ordering more wine from here.
Agréable présentation avec beaucoup de connaissance de cette jeune fille très accueillante 🙂
Gregorio Marie
06/05/2023
Petit caviste avec de nombreuses belles références et un accueil chaleureux !
Jean-Charles Delagneau
27/04/2023
The best vintage is the best shop to buy wines on Chateauneuf du pape. 50 Wineries, Estate price... and the best price to ship wines in USA... And the tasting wines is amazing... Great moment !
stéphane Taupin
11/04/2023
Seit Wochen keine Antworten auf meine Mails oder Bezahlung meines Rückerstattungsanspruchs der zu viel bezahlten Zustellungskosten. Es wird versprochen, dass mit der Bezahlung der Lieferungskosten ins Ausland alles inkludiert ist - auch die Verzollung. Was nicht stimmt. Ich musste knapp 100 Euro zusätzlich bei Auslieferung meiner Bestellung bezahlen, was mich sehr ärgerte. Am Telefon wurde mir von The Best Vintage versprochen, dass sie mir die Kosten rückerstatten werden. Bisher warte ich vergeblich auf die Rückerstattung sowie auf Antworten auf meine Mails. Bin sehr enttäuscht über dieses Verhalten. Ein absolutes no go.
Hans-Peter Nehmer
07/10/2022
Such a wonderful experience. The person helping my wife and I with our tasting was fun to talk to, knowledgeable, and very pleasant to work with while we picked out a variety of wine to have shipped back home to us after our trip was over. Would recommend 10 out of 10 times.
Superbe boutique avec un choix assez incroyable et des prix plus que correct. Le staff est super sympa et discute avec plaisir de vin! Je recommande vivement !
Arun Karunakaran
04/04/2022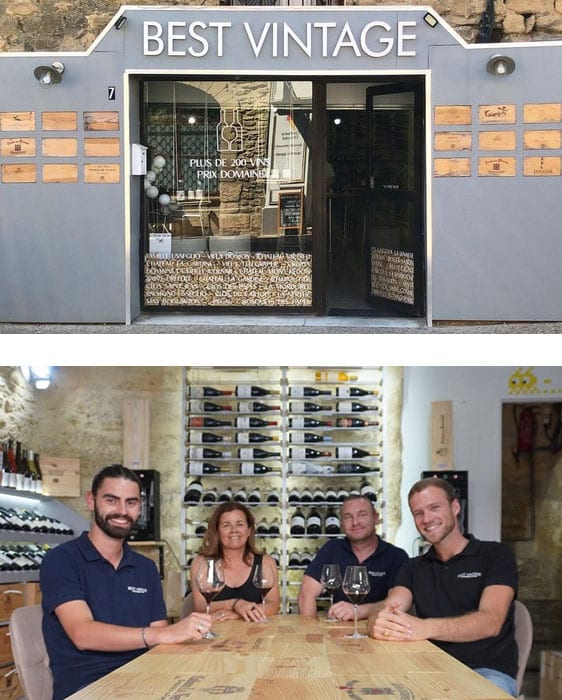 Presentation of the cellar
Your wine merchant dedicated to oenological excellence
Since 2008, we are proud to immerse you in the universe of our cellar located in the heart of Châteauneuf-du-Pape, an essential place for wine lovers.
Specializing in wines from the Châteauneuf-du-Pape appellation of origin, we also have a rigorous selection of wines from neighboring appellations such as Côte Rôtie, Hermitage and Lirac for example. We want to offer you a unique and memorable experience both in the discovery and in the tasting of our bottles.
Our passion for wine drives us every day, whether you are a wine lover or simply curious to learn more, we will be happy to guide you in choosing your bottles that will delight your taste buds.
Physical cellar or online sale, Best Vintage is the authenticity and quality of our selection of more than 300 wine references that respect ancestral methods, with the advantage of the "property price"!